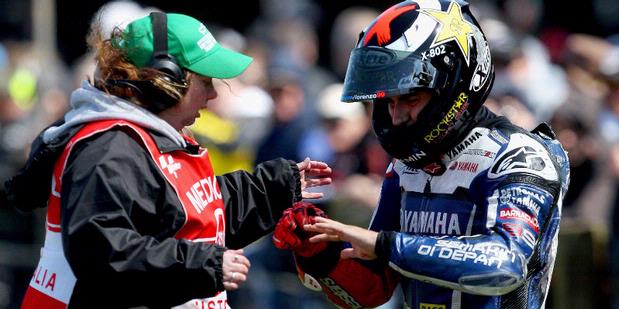 Yamaha rider Jorge Lorenzo, see the ring finger of his left hand, after the accident while warming in the Australian Grand Prix on Sunday (16.10.11) morning, which made ​​him unable to perform on the race at Phillip Island Circuit.
Jorge Lorenzo
has successfully passed plastic surgery in Australia. Kin was the Yamaha rider, who had just lost his
MotoGP
world champion, has returned to his home in Barcelona to undergo a recovery period.
Congratulations to
Casey
, were worthy of the best this year, and both the title, the success of various plants
- Jorge Lorenzo
As already confirmed, the former miss double 250cc
World Champion
, the Malaysian GP this weekend. The ability, in the last round in Valencia, November 4-6, also appear not yet clear, since the new decision will be made within two weeks, depending on the progress of recovery.
Last week, Lorenzo could not appear in the GP of Australia, by an accident during warm-up on Sunday (10:16:11) morning. He pioneered the
Repsol Honda
Casey Stoner, to embrace the title of world number one on the podium after the hearing of a race.
The success of his rival has, Lorenzo does not fail to congratulate him. Then said the accident happened to him.
"Casey had a fantastic season, with very few errors. State continues to strongly and consistently, making it difficult to overcome.
Congratulations
to him, was the best deserves this year, and both the title, the results with the different floors (Ducati and Honda) will receive, "said Lorenzo.
"I would fight to the end of the season, perhaps
Valencia
, but an accident on Sunday made it impossible. I'm very proud of my team for all their hard work, it was the second in the overall standings. Now we have over the next year, and the hard work of thinking as possible to win again.
"After the accident I was so worried that you can not hear anything more on my
finger
after special treatment, I am sure you have a perfect sense of the nerves and muscles, gives me confidence and I look forward to .. M1 challenge me again! "
Cut, in fact, because of the
accident
, Lorenzo left ring finger off in the first segment. But in the operation, the finger can be re-employed and work to the conditions and the muscles properly. The middle finger was injured, but only the loss of the skin, and was taken from the hypothenar closed with SSG (group of three muscles, the movement of the palm with the fingers).